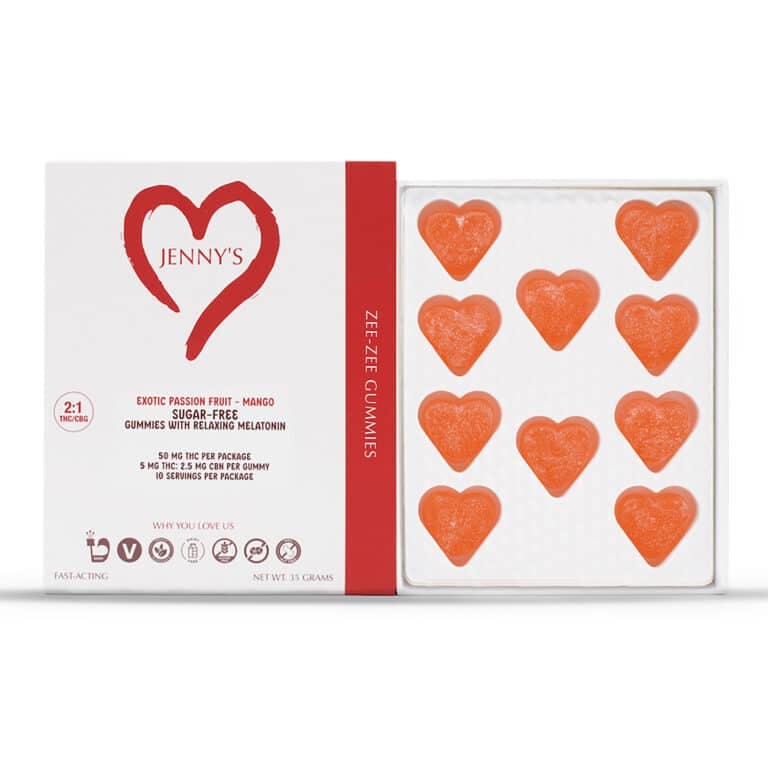 Brand: JENNY'S
Jenny's | Zee-Zee Gummies | 5mg:THC 2.5mg:CBN/Gummy | 10pk
ZEE-ZEE GUMMIES FOR RELAXATION + SLEEP    Unwind and drift into relaxation with our Passion Fruit-Mango flavored Zee-Zee Gummies. Infused with the calming properties of melatonin and CBN, these heart-shaped gummies are your perfect end-of-day treat. They're Sugar-Free, Vegan, Kosher, and lovingly created with all organic ingredients. Suitable for those with dietary needs, they're dairy-free, gluten-free, nut-free, and keto-friendly. Full spectrum hash resin featuring 2:1 THC/CBN ensures a complete cannabis experience.   Product Facts: Description: Sugar-free, kosher, vegan cannabis gummies Flavor: Passion Fruit – Mango Shape: Heart Color: Hudson Valley Orange Sunset  Serving Size: One gummy is 3.5 grams in weight. Cannabis: Full spectrum cured cannabis resin (hash resin) that includes 5 mg of fast-acting THC + 2.5 mg CBN Recommended serving Size: 1 heart gummy. Jenny's guidance on cannabis edibles is to "begin low and slow". If you are a new user, take half a gummy or less, and wait up to 1 hour or more for effects. Everyone's body chemistry is different, so be patient and kind to yourself! Sustainability: Jenny's packaging is fully recyclable where recycling services are available. Servings per package: 10 gummies   Health and Dietary Intentions: ·      Sugar-Free ·      Vegan ·      Certified Kosher ·      Keto-friendly  ·      Dairy-free ·      Gluten-free ·      Made in a nut-free environment ·      Made with all organic ingredients, and  ·      Fast-acting full spectrum cured cannabis resin (hash resin).   Ingredients: Organic Allulose, Pectin, Organic Natural Flavor Extract, Organic Citric Acid, Organic Natural Food Color, Organic Sunflower Lecithin, Full spectrum cured cannabis resin, Organic Melatonin.
Effects
Relaxed
Sleepy
Happy
Calm
Clear Mind
View Product Testing Data
CBN (Cannabinol)
2.5
CBN (Cannabinol)-2.5
CBN is a cannabinoid that is created during the breakdown of THC by UV light and exposure to oxygen. This breakdown usually begins during the drying and curing process. CBN is most commonly found in older or improperly stored cannabis samples. This compound is mildly psychoactive and is best known for its sedative effects. Strains and products with high concentrations of CBN can be a great choice for users looking to utilize cannabis products to ease restlessness and promote healthy sleep.