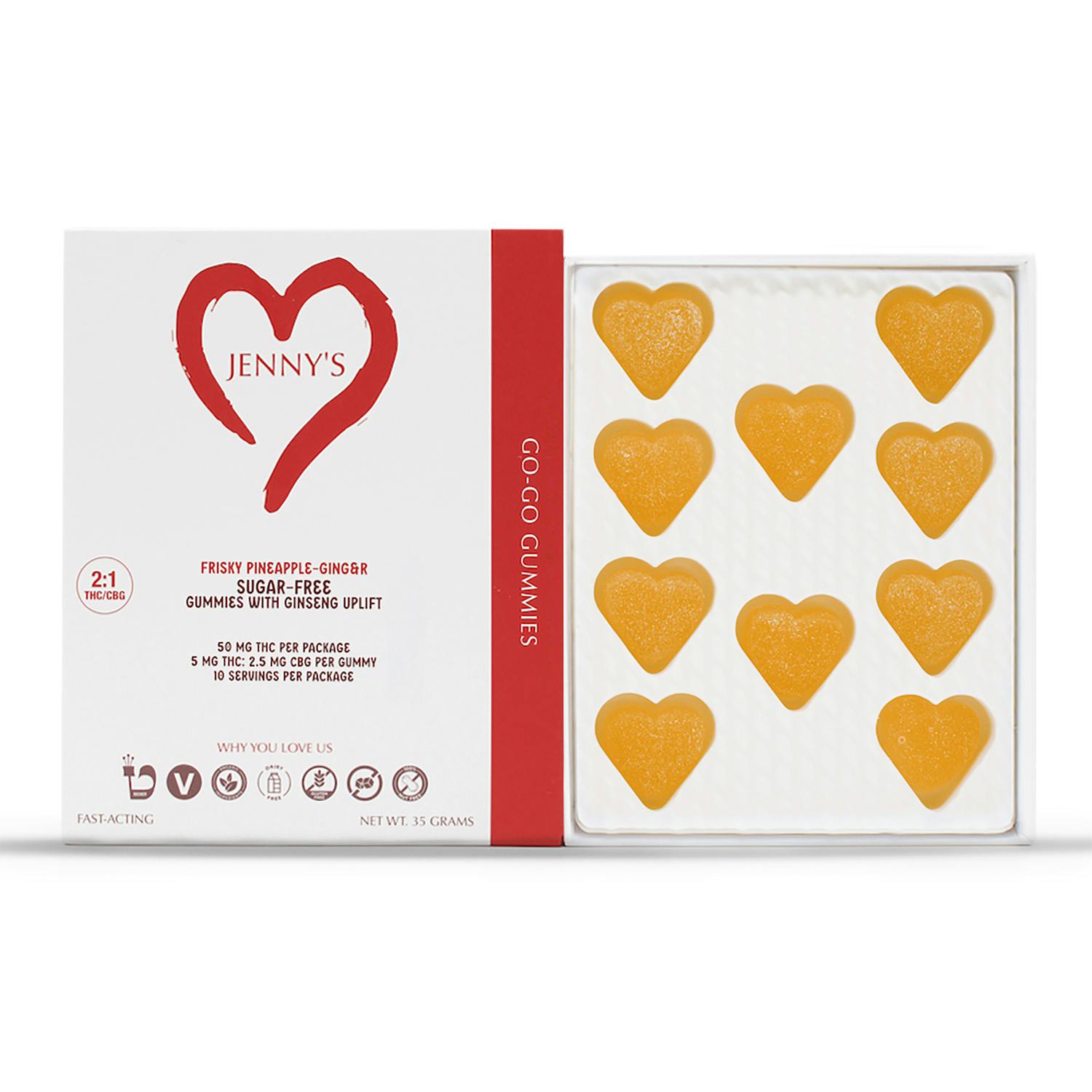 Brand: JENNY'S
Jenny's | Go-Go Gummies | 5mg:THC 2.5mg:CBG/Gummy | 10pk
GO-GO GUMMIES FOR UPLIFT + FOCUS    Elevate your senses and sharpen your focus with our Pineapple-Ginger flavored Go-Go Gummies. Infused with an invigorating boost of ginseng and the clarity of CBG, these heart-shaped delights are not just a treat for your taste buds but also a companion for your busy day. Crafted with care, they are Sugar-Free, Vegan, Kosher, and made with all organic ingredients. Plus, they're friendly for those with dietary restrictions being dairy-free, gluten-free, nut-free, and keto-friendly. The full-spectrum cured cannabis resin (hash resin) ensures a holistic cannabis experience.   Product Facts: Description: Sugar-free, kosher, vegan cannabis gummies Flavor: Pineapple – Ginger Shape: Heart Color: Golden Yellow Serving Size: One gummy is 3.5 grams in weight. Cannabis: Full spectrum cured cannabis resin (hash resin) that includes 5 mg of fast-acting THC + 2.5 mg CBG Recommended serving size: 1 heart gummy. Jenny's guidance on cannabis edibles is to "begin low and slow". If you are a new user, take half a gummy or less, and wait up to 1 hour or more for effects. Everyone's body chemistry is different, so be patient and kind to yourself! Sustainability: Jenny's packaging is fully recyclable where recycling services are available. Servings per package: 10 gummies   Health and Dietary Intentions: ·      Sugar-Free ·      Vegan ·      Certified Kosher ·      Keto-friendly  ·      Dairy-free ·      Gluten-free ·      Made in a nut-free environment ·      Made with all organic ingredients, and ·      Fast-acting full-spectrum cured cannabis resin (hash resin). Ingredients: Organic Allulose, Pectin, Organic Natural Extracts (Pineapple, Ginger, Ginseng), Organic Citric Acid, Organic Natural Food Color, Organic Sunflower Lecithin, full- spectrum cured cannabis resin.
Effects
Happy
Energetic
Creative
Focused
Inspired
Uplifted
View Product Testing Data
CBG (Cannabigerol)
2.5
CBG (Cannabigerol)-2.5
Cannabinoids are synthesized by Cannabigerolic Acid. CBG is the decarboxylated form of this acid that appears at low levels in most cannabis plants. Because its properties are beneficial to multiple parts of the endocannabinoid system, CBG has a wide range of therapeutic uses. It is non-psychotropic and can provide analgesic and antidepressant qualities.