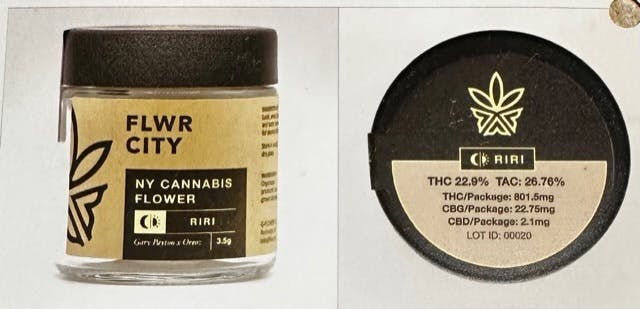 Brand: FLWR CITY
FLWR CITY – RIRI
Cross between Gary Payton x Oreos. A hybrid with a sweet breads nose, with a smooth exhale and a relaxing vibe. Good all day. The smell is sweet, sour & gassy.
Effects
CalmHappyRelaxedEnergetic
Caryophyllene
1%
Caryophyllene
1%
Caryophyllene, or more specifically Beta-caryophyllene is known for it's wide variety of potential health benefits both physically & mentally. This terpene has a unique ability to bind to the CB2 receptors; CB2 receptors are targeted when treating pain & inflammation with cannabis. Beta-caryophyllene is also approved for use in food by the FDA & is commonly found in black pepper, cinnamon, & basil.
Aromas
SharpSpiceSweetPepper
Potential Health Benefits
Anti-depressionAnti-inflammatoryCancer FightingPain ReliefGastrointestinalAnti-anxietyAnti-diabetic
Humulene
0.2%
Humulene
0.2%
Commonly found in ginseng, ginger, & hops, Humulene is known to lend its robust characteristics to the different scents of cannabis. This terpene has been used in holistic practices for hundreds of years due to its strong anti-inflammatory properties. Humulene has also been reported to act as an appetite suppressant.
Aromas
HerbalSpiceWoodyEarthy
Potential Health Benefits
Anti-inflammatoryCancer FightingAppetite Suppressant
CBG (Cannabigerol)
0.65%
CBG (Cannabigerol)-0.65%
Cannabinoids are synthesized by Cannabigerolic Acid. CBG is the decarboxylated form of this acid that appears at low levels in most cannabis plants. Because its properties are beneficial to multiple parts of the endocannabinoid system, CBG has a wide range of therapeutic uses. It is non-psychotropic and can provide analgesic and antidepressant qualities.
"TAC" – Total Active Cannabinoids
26.76%
"TAC" – Total Active Cannabinoids-26.76%
Total active cannabinoids represent the total amount of active cannabinoids at the time of lab testing. This total of active cannabinoids considers all of the active compounds that the product holds.