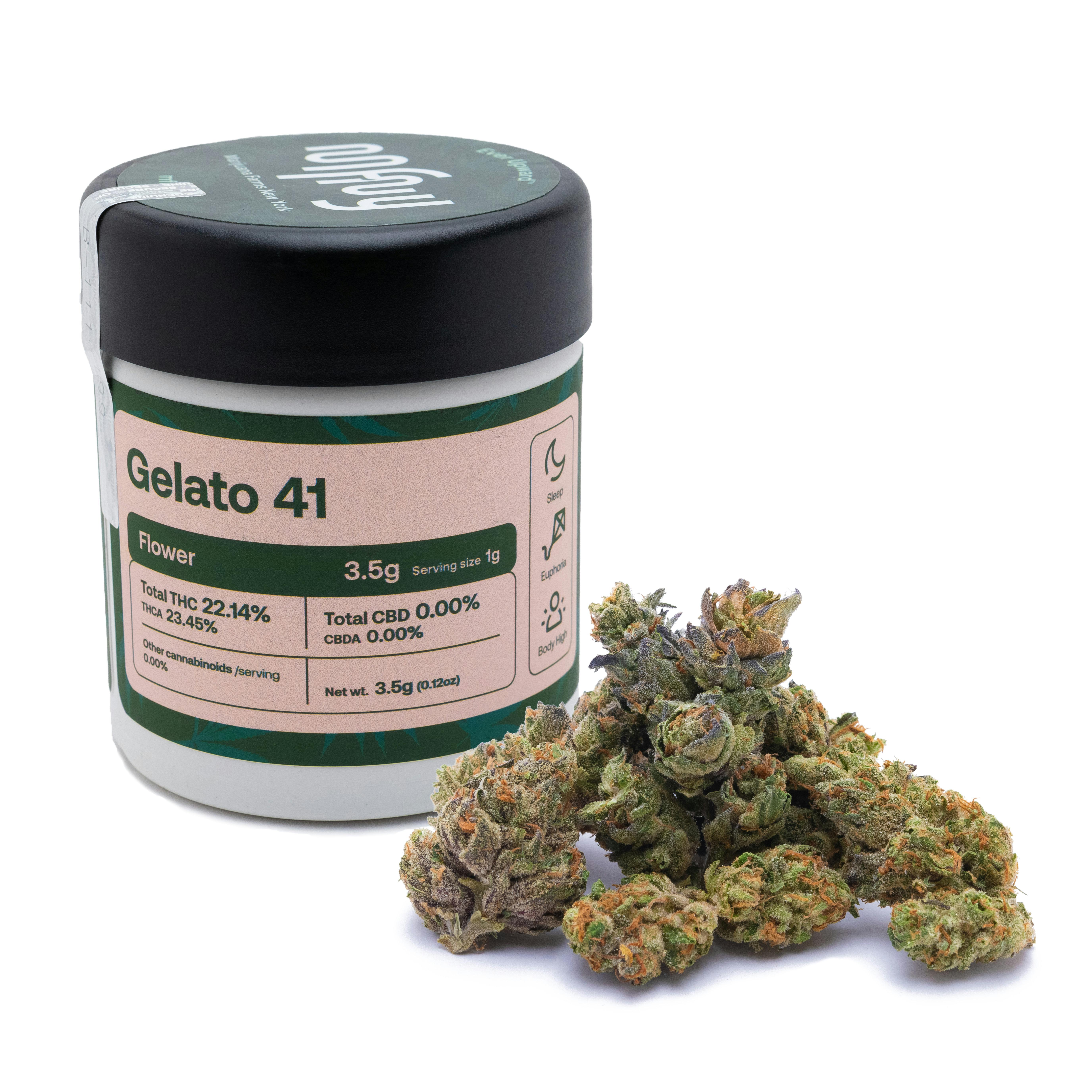 Brand: MFNY
Gelato #41
Expertly grown in climate-controlled greenhouses and harvested using techniques that maximize terpene preservation, MFNY is excited to offer Gelato #41. This hybrid strain is potent: meaning it's high in THC and offers a heavy, relaxing body high (but can help focus the creative mind). This strain has buds that grow in an array of colors, from light green to purple, with trichomes that put out an earthy aroma with hints of lavender and pine. It has a sweet sherbet flavor mixed with blueberry and orange hints. Because this is strong stuff, it may not be the best for new/novice users.
View Product Testing Data
Caryophyllene
0%
Caryophyllene
0%
Caryophyllene, or more specifically Beta-caryophyllene is known for it's wide variety of potential health benefits both physically & mentally. This terpene has a unique ability to bind to the CB2 receptors; CB2 receptors are targeted when treating pain & inflammation with cannabis. Beta-caryophyllene is also approved for use in food by the FDA & is commonly found in black pepper, cinnamon, & basil.
Aromas
Sharp
Spice
Sweet
Pepper
Potential Health Benefits
Anti-depression
Anti-inflammatory
Cancer Fighting
Pain Relief
Gastrointestinal
Anti-anxiety
Anti-diabetic
Limonene
0%
Limonene
0%
Limonene is found in citrus rinds and is the second most commonly occurring terpene in nature. This terpene has been used in high dosages as a catalyst in topical products to allow other chemical compounds to pass through the skin for absorption in the blood.
Aromas
Citrus
Lemon
Herbal
Potential Health Benefits
Cancer Fighting
Anti-anxiety
Anti-depression
Stress Relief
Brain Function
Gastrointestinal
Anti-inflammatory
Myrcene
0%
Myrcene
0%
One of the most common terpenes found in cannabis. Myrcene is known to increase the effects of the psychoactive properties of THC in addition to some of the health benefits found in CBD. Commonly found in parsley, mangoes & hops, Myrcene is a good option for those looking to add a little relaxation to their overall experience.
Aromas
Cloves
Earthy
Musk
Effects
Comfort
Potential Health Benefits
Anti-anxiety
Cancer Fighting
Anti-inflammatory
Sedative
THCA (Δ9-tetrahydrocannabinolic acid)
23.45%
THCA (Δ9-tetrahydrocannabinolic acid)-23.45%
THCA is a cannabis compound with a laundry list of potential mental and physical health benefits. THCA is the non-psychoactive precursor to THC, the most famous cannabinoid of all. While THC is responsible for the psychoactive "high" that so many of us enjoy, THCA has shown great promise as an anti-inflammatory, neuroprotectant and anti-emetic for appetite loss and treatment of nausea. THCA is found in its highest levels in living or freshly harvested cannabis samples. For this reason some users choose to juice fresh cannabis leaves and flowers to get as much THCA as possible.
About the brand :
MFNY
MFNY is an award winning single-source cannabis company from New York.