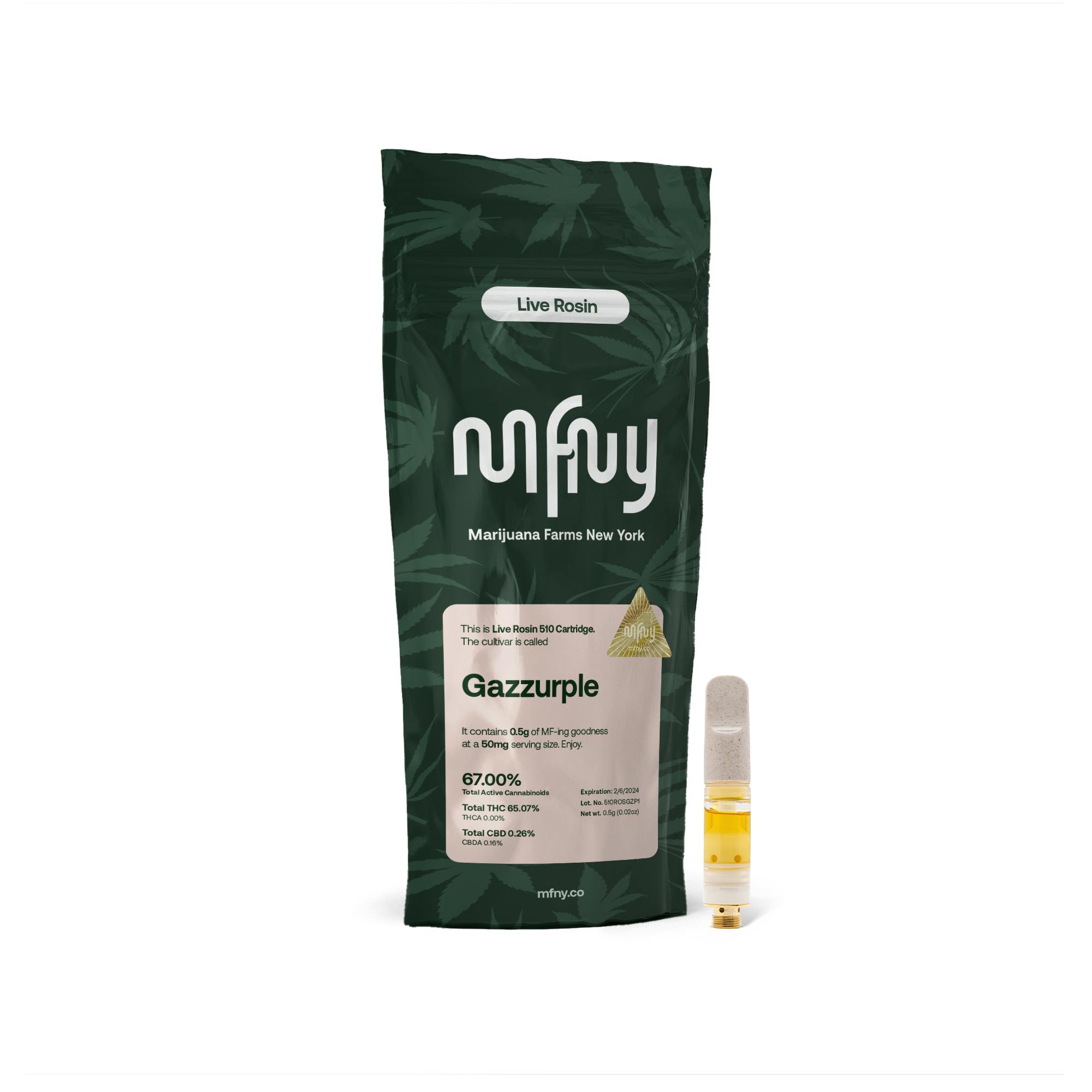 Brand: MFNY
Gazzurple | Live Rosin 510 Cart
"The MFNY live rosin vape has a high terpene profile of our single-source, in-house produced Gazzurple live rosin. This solventless extract showcases the strain's naturally produced cannabinoids and terpenes, such as limonene, caryophyllene, and humulene; resulting in gaseous aromas of diesel and sweet berry tartness. No distillates, added flavors, or alterations. Comes in a 510 Cart with recommended battery settings 2.8 - 3.3V. Do not vaporize live rosin at higher temperatures, as it can "burn off" the precious terpenes and aromas we are working hard to preserve; higher temps can also cause an undesirable "burnt" aftertaste. Vape cartridge contains concentrated live rosin oil that is heated by a battery and vaporized for inhalation. These products are very potent and are designed to be consumed in 2-3 second puffs."
Effects
Energetic
Happy
Uplifted
View Product Testing Data
Caryophyllene
0%
Caryophyllene
0%
Caryophyllene, or more specifically Beta-caryophyllene is known for it's wide variety of potential health benefits both physically & mentally. This terpene has a unique ability to bind to the CB2 receptors; CB2 receptors are targeted when treating pain & inflammation with cannabis. Beta-caryophyllene is also approved for use in food by the FDA & is commonly found in black pepper, cinnamon, & basil.
Aromas
Sharp
Spice
Sweet
Pepper
Potential Health Benefits
Anti-depression
Anti-inflammatory
Cancer Fighting
Pain Relief
Gastrointestinal
Anti-anxiety
Anti-diabetic
Limonene
0%
Limonene
0%
Limonene is found in citrus rinds and is the second most commonly occurring terpene in nature. This terpene has been used in high dosages as a catalyst in topical products to allow other chemical compounds to pass through the skin for absorption in the blood.
Aromas
Citrus
Lemon
Herbal
Potential Health Benefits
Cancer Fighting
Anti-anxiety
Anti-depression
Stress Relief
Brain Function
Gastrointestinal
Anti-inflammatory
Humulene
0%
Humulene
0%
Commonly found in ginseng, ginger, & hops, Humulene is known to lend its robust characteristics to the different scents of cannabis. This terpene has been used in holistic practices for hundreds of years due to its strong anti-inflammatory properties. Humulene has also been reported to act as an appetite suppressant.
Aromas
Herbal
Spice
Woody
Earthy
Potential Health Benefits
Anti-inflammatory
Cancer Fighting
Appetite Suppressant
About the brand :
MFNY
MFNY is an award winning single-source cannabis company from New York.