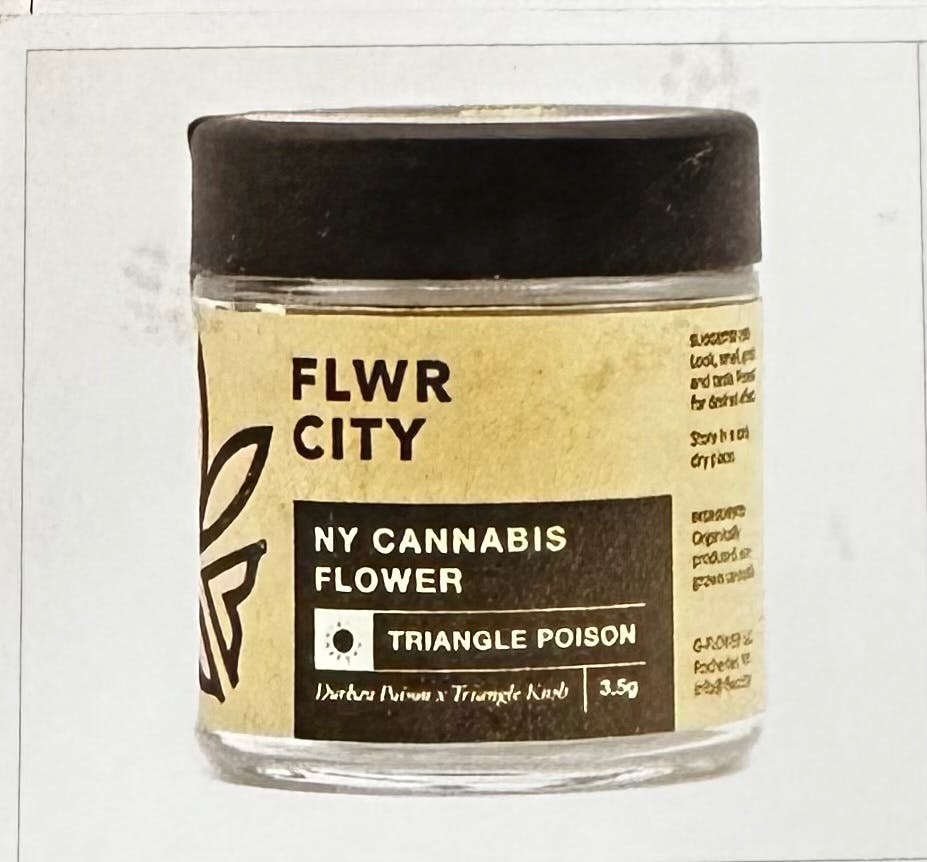 Brand: FLWR CITY
FLWR CITY | Triangle Poison | 3.5g
What a funk! A saliva that is a cross between Durban Poison x Triangle Kush. The Taste is smooth and easy. The smell is pungent, funky and a haze. The overall vibe is good for the day.
Effects
EnergeticHappyCreativeFocusedInspiredUplifted
Terpinolene
0.8%
Terpinolene
0.8%
Terpinolene is a cannabis terpene with strong aromatic properties which makes it a popular ingredient in perfumes, lotions & soaps. While this may not be a prevailing terpene such as myrcene or linalool, it still has the potential to positively effect the endocannabinoid system through its numerous potential health benefits. Also found naturally occurring in apples, tea trees & sage.
Aromas
CitrusWoodySpice
Potential Health Benefits
Cancer FightingSedativeStress ReliefAnti-anxiety
Ocimene
0.4%
Ocimene
0.4%
Ocimene is a terpene that is commonly found in cannabis as well as in a wide array of fruits and vegetables. Some familiar fruits and spices that contain Ocimene are; parsley, mango, basil, allspice and pepper. Historically it has been widely used in perfumes, but has recently been shown to have possible potential benefits to health as an anti-inflammatory, anti-viral and anti-bacterial compound.
Aromas
HerbalSweetWoody
Potential Health Benefits
Anti-inflammatoryAnti-bacterial
Caryophyllene
0.3%
Caryophyllene
0.3%
Caryophyllene, or more specifically Beta-caryophyllene is known for it's wide variety of potential health benefits both physically & mentally. This terpene has a unique ability to bind to the CB2 receptors; CB2 receptors are targeted when treating pain & inflammation with cannabis. Beta-caryophyllene is also approved for use in food by the FDA & is commonly found in black pepper, cinnamon, & basil.
Aromas
SharpSpiceSweetPepper
Potential Health Benefits
Anti-depressionAnti-inflammatoryCancer FightingPain ReliefGastrointestinalAnti-anxietyAnti-diabetic
CBG (Cannabigerol)
1.04%
CBG (Cannabigerol)-1.04%
Cannabinoids are synthesized by Cannabigerolic Acid. CBG is the decarboxylated form of this acid that appears at low levels in most cannabis plants. Because its properties are beneficial to multiple parts of the endocannabinoid system, CBG has a wide range of therapeutic uses. It is non-psychotropic and can provide analgesic and antidepressant qualities.
"TAC" – Total Active Cannabinoids
21.38%
"TAC" – Total Active Cannabinoids-21.38%
Total active cannabinoids represent the total amount of active cannabinoids at the time of lab testing. This total of active cannabinoids considers all of the active compounds that the product holds.