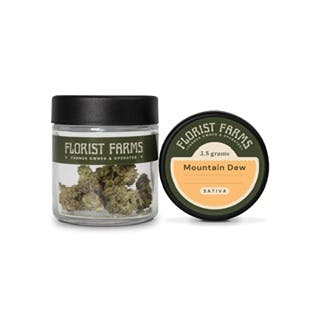 Brand: Florist Farms
Florist Farms – Mountain Dew Flower
This Sativa leaning hybrid leaves you giggly, talkative and tingly. It has a lime , mint and lemon flavor which makes it taste just like Mountain Dew. It is a very uplifting high.
Effects
EnergeticHappyCreativeFocusedInspired
About the brand :
Florist Farms
Florist Farms is on a mission to make the world a better place. They grow cannabis using regenerative farming techniques, which means they use healthy soil, cover crops, compost, and no chemical pesticides or fertilizers.