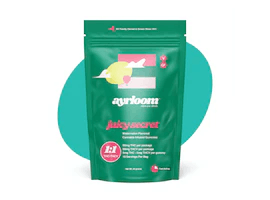 Brand: Ayrloom
Ayrloom | Juicy Secret | 5mg:THC 5mg:THCV/Gummy | 10pk
The sweet smells of summer, amped up with watermelon aromas riding in on cool waves of Juicy Secrets!
Effects
Happy
Energetic
Creative
Focused
Inspired
View Product Testing Data
THCV (Tetrahydrocannabivarin)
5
THCV (Tetrahydrocannabivarin)-5
THCV sets itself apart from its cousin THC with its distinct lack of psychoactive effects. THCV also acts as an allosteric modulator for Delta-9-THC thus reducing its psychoactivity. It has been found to be helpful as an appetite suppressant, neuroprotectant and glycemic control in type 2 diabetics.